Jesus said in John 10:27, "My sheep listen to my voice; I know them, and they follow me."
I don't know about you, but for a long time, this verse bothered me. I was supposed to be listening for his voice, but mostly all I heard was silence.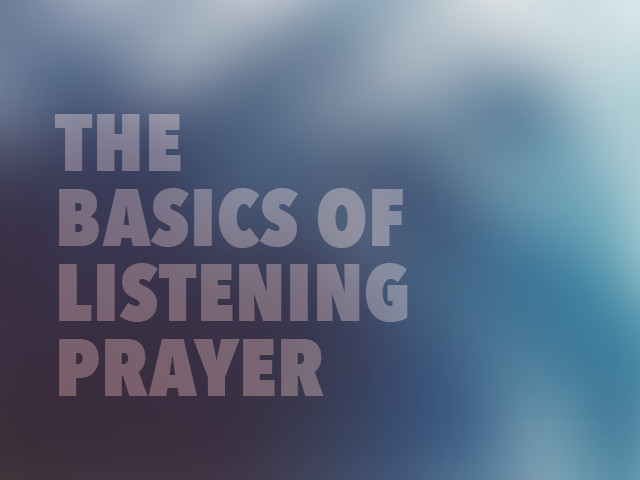 The silence pointed to a deeper frustration. All my life I had struggled with this problem: I had accepted Jesus as my savior and was supposed to have this personal relationship with him, but it didn't feel very personal.
How Most of Our Prayer Times Look
As a teenager, my mom would ask me the same question every morning at the breakfast table: "Did you have your devotions?"
She meant, had I read the Bible and prayed?
My devotions were dry, routine affairs. I'd whip through a chapter in the Bible. I'd run down a list of prayer requests, and I'd check that part of my day off the list. What a contrast with, say, a date with my girlfriend. When I took her out for dinner and a movie, sometimes we missed the movies because we couldn't stop talking. Our conversations had a momentum all their own.
How discouraging that the relationship that was supposed to be the most exciting and wonderful in my life had become a check on my to-do list.
Our Daily Prayers Can Be So Much Deeper
Maybe you are like me—you grew up having monologues with God and have never heard before that he wants to talk to you. You've not really learned how to hear his voice.
I remember the first time I heard his voice. It was years later; I was desperate. I had been betrayed by someone very close to me and I needed to know that God cared. I asked him if he would share with me what he thought of me. The next thing that happened changed my life forever. God spoke inwardly to me in a way that might as well have been audible. He said, "Seth, I love you."
That did it. I was a junky, ruined for anything that smacked of a tame, compromising faith. I shared with my children what they called "praying the new way." One of them heard God say, "I love you more than the flowers and the trees."
After that, we all began to grow in our ability to listen. We would ask the Lord questions, then listen, and he often spoke.
What Does Listening Prayer Look Like?
In 1998, Allie Pohlmeier traveled with a team from Judson College to do a project in Matamoros, Mexico. As so often happens, her heart was touched by what she experienced, particularly by one family for whom her team built a home. They painted it green.
Before leaving, she took a picture of herself with that family in front of the home.
In the spring of 2005, she returned to Matamoros on an AIM project. One day, she asked the Lord what he wanted her to do. Then she waited and listened. Allie felt the Lord saying, "Find the green house."
"But God," she said, "Matamoros is a huge place! There may be a million people living here. I have no idea where that house is—how in the world would I ever find it?"
God said, "Find the green house."
"But God," she said, "that's a crazy thing. I don't even know the name of the neighborhood. I have no idea what the family's name is. I'll look stupid!"
God said, "Find the green house."
Eventually Allie gave in, and taking the picture of the house with her, started off.
She looked up and down the first street—no green house. She felt ridiculous, but knew she must obey. She saw a girl walking down the street, so she approached her.
"Could you look at this picture and tell me who these people are," she said to the girl, "or where this house might be?"
The girl studied the picture and slowly a look of amazement came to her face.
"That's me!" she exclaimed, pointing at the picture. "That's our house! I'll take you to it. It's just around the corner."
As it turned out, she was only a block away from the green house!
What Allie experienced shouldn't be unusual for those of us who listen for God's voice. Christianity is a personal faith. God wants to talk to us. He wants to guide us, but we have to listen.

How to Listen to God
How do you listen to an all-powerful but invisible God?
The Bible has a lot to say about it. Over and over God interacts with people in a variety of ways. Our God is endlessly creative in how he communicates with them.
God spoke to Daniel through visions, Balaam through a donkey, Peter through a rooster, and of all things, he spoke to Moses out of a shrub.
He is a God who says, "Listen for my voice."
Examples of Listening Prayer
There are hundreds and hundreds of examples of God speaking to people in the Bible. It's his modus operandi—and he gives detailed instructions for this in both the Old and New Testament.
We also have a rich history of God speaking to man from Jesus' time until the present—people like Augustine, Mother Teresa, Joan of Arc, and Brother Lawrence.
In our relationships, we are so distracted and busy that it's often the exception rather than the rule that people listen to one another, much less listen to God. We need to learn how to listen.
Listening Prayer Can Transform Your Church
Recently I spoke to a church. They asked me to ask for the church's missions faith promise offering. I asked, "How did you do last year?" The answer came back, "Not so well, people gave just 46 percent of faith promise monies they had pledged."
I thought, "That's interesting. I'll bet the reason the figure is so low is not that they don't have the money, but that they didn't hear the Lord correctly. If they heard him clearly, then the figure would be 100 percent."
So I did a survey. "How many of you feel as though you hear clearly from the Lord?" The answer came back: 46 percent. The same figure!
I don't think it's a coincidence. Frankly, almost everyone struggles to hear God and many people have never heard him.
Listening Prayer Exercises
Learning to hear the Lord's voice isn't complicated. But it does require some discipline to find a quiet place and to allow some time just listening.
Perhaps the hardest part of listening prayer is clearing your mind. With all the noise of life regularly cascading through your mind, it can be hard to hear God's voice. There's no formula, but let me share a few principles that have worked for me:
Set aside at least half an hour to start. When you are ready, quiet yourself. If stray thoughts come through your mind, write them down on a separate piece of paper.
Read some scripture. Ask the Lord to speak to you through it in a way that you can understand. Ask God to protect you in Jesus' name from deception.
Then write down your question for prayer. Pause. This is where you wait and listen. God may direct you to another passage of Scripture. He may share a tender word. Whatever you feel he may be saying to you, write it down.
Ask him to confirm anything he shared with you.
Simple Strategies for Better Prayer Times
Use a journal; it will help you focus. Plus it's a great resource to look back and see the journey the Lord took you on. It also helps fine-tune your spiritual ears to better hear him. Writing down your impression of the Lord's responses creates in you an expectancy that he will respond.
Use two different pens. I like to use the first color to record my thoughts and the second pen to record what I sense God is saying. The different colors clarify "who's talking."
If, when you sit down to pray, you often have a to-do list pop up in your head, then have another piece of paper handy to make a list with any other thoughts that pop up. It's okay and it's natural. Just let them come out so you can focus.
Questions To Test What you Hear from God
Was it a clear word or just an impression? God may give us different degrees of confidence in what he has said. We therefore need to humbly admit our fallibility. Get someone you trust to check your impression and to confirm it or not.
Does it exalt Christ? (John 16:14)
Is it scriptural? Scripture is our authority. God does not contradict himself. (Proverbs 30:5-6)
Do other Christians confirm it? (Proverbs 20:18, Proverbs 15:22)
Does God cause it to actually take place? (Isaiah 55:11, Deuteronomy 18:21-22)
Can You Really Know the Voice of the Lord?
Vicki Gross was struggling with how to recognize God's voice, and described a breakthrough that the Lord gave her.
I was on a school bus full of jabbering, yelling kids. My son was in the back of the bus. There were 20 rows of children making noise between us, but as I listened, in the back, I could make out the distinctive voice of my boy. To anybody else who didn't know him, his voice would have blended into the cacophony, but because I know him, I recognized his voice.

The Lord showed me, 'That's how you recognize my voice, too. Because you know me, you recognize my voice, even above life's noise."
God's voice is distinctive. He promises that we, his sheep, will hear it. The more you pause and listen for his voice, the more you will find that your ears tune in to it—you become familiar with it. It just requires your listening.